---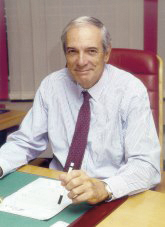 Since 1977, GMP has been active in the fields of lasers, spectroscopy, photonics and micropositioning. Thanks to an efficient sales and service organization, GMP has become not only a top distributor of high technology products, but is also able to propose turnkey solutions for equipment integration, developed by GMP's engineering department.

In 1917, Albert Einstein proposed his theory of light amplification by stimulated emission of radiation. With the first lasers developed in the United States in 1960, the prospect of unlimited applications brought about phenomenal advances in all areas of industrial and scientific endeavor - from industrial machining to spectral and quantum analysis, from telecommunications to microsurgery.
As early as 1977, Jean-Jacques Goy was among Switzerland's early laser pioneers when he founded GMP SA, designed to be an active interface between manufacturers and users of high-tech systems and instruments. The relations he established with the world's leading manufacturers helped him obtain the exclusivity for their avant-garde systems. GMP soon ranked first in its field on the Swiss market. The Company began to supply the research laboratories of Switzerland's Federal Institutes of Technology, joined in the development of research centers operated by major industrial groups and set out to serve hospitals, clinics and doctor's practices.

GMP's physicists and engineers are among the most skilled and innovative anywhere. Their specialized education and training account for advanced expertise in those areas in which they design, develop and start up scalable systems as partners and consultants. Service technicians for their part are intimately familiar with installation and assistance procedures. Finally, GMP's engineering department designs and develops comprehensive installations which incorporate components and peripherals from a variety of sources.

A promising future derives from the constant progress made in photonics, electronics and microtechnology. GMP's on-going interaction with leading research and production facilities continues to consolidate the Company's avant-garde position. The expertise and confidence GMP has acquired over the years allow company principals and staff to interface effectively with key public and private-sector customers in science and industry.

Contest GMP